Skip to Content
Denture Solutions in Neenah, WI
If you're looking for a full-mouth restoration, dentures are a time-tested and popular solution that are sure to give you the smile of your dreams. Here at Parkside West Dental, we do everything we can to ensure our patients leave our office with something to smile about. Gone are the days of dealing with missing teeth that slur your speech, degrade the structural integrity of your face, and hinder you from chewing food properly. Our team has all the denture solutions you need under one roof, and we look forward to helping you obtain a full and beautiful smile. Learn more about our denture services today by scheduling an appointment with us!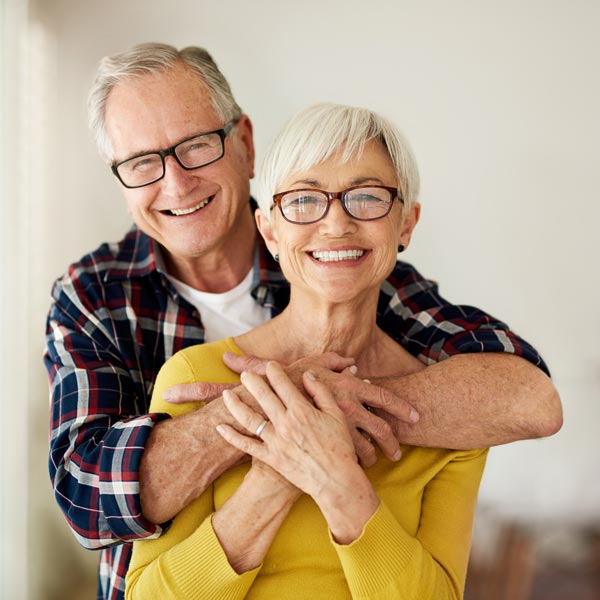 What Are Dentures?
Dentures are an appliance most commonly made with acrylic, nylon, and metal to match the look of a person's natural teeth and gums. They are typically used to replace missing teeth, restoring the aesthetics and function of your smile. Whether you've lost multiple teeth from gum disease, old age, an accident, tooth decay, or something else, it's essential to get these teeth replaced for the good of your oral health. The three different denture types include the following:
Conventional
Conventional dentures are made and placed in the mouth once any remaining teeth are removed, and the surrounding tissues have had time to heal fully. This may take several months, which will render you toothless until the healing process is complete.
Immediate
If you're looking for a quicker solution, immediate dentures can be inserted on the same day the remaining teeth have been removed. You won't have to be without teeth during the healing period, but it is likely that you will need to have your denture relined or remade to fit your newly healed jaw.
Overdenture
There are cases where some of your teeth can be saved to preserve your jawbone while also providing stability and support for the denture. After being prepared by our dentist, an overdenture will fit snugly over your remaining natural teeth to create a seamless smile.
Restore Your Smile Today!
If you're looking to enhance your smile and combat the adverse effects of missing, decaying, or damaged teeth, dentures may be the right choice for you. Our team will walk with you every step of the way to ensure you receive the denture solutions you need to maintain your oral health and flash the world a full, beautiful smile. When you need a complete smile again, give us a call and schedule an appointment. Reach out to our office by calling 920-727-9595 at your earliest convenience!